Swingers Date Club Review
WE CAN recommend this service!

What is SDC.com? The Swingers Date Club dating platform or alternatively well-known as the SDC abbreviation is one of the largest communication services for all swing lovers in the world. The site was originally launched in 1999. It turned into the go-to site for swinging couples and singles to discover sex, pleasure, and a bunch of other shared interests.
The SDC swinger site has established the aim to unite their community and help them have fun at the parties and events that let them explore their sexual fantasies and appetites. This dating platform has an enormous audience of over 3 million devoted customers. The SDC website is available in most countries in the world, but the majority of users come from the Netherlands and the United States.
The SDC site works great and helps swing community members to communicate, have fun, and, what is more likely, meet in offline events and parties that allow them to hook up. Read our swinger date club review to know all the detail.
Pros:
Numerous offline events for members
Many public events and private parties
All sexual preferences are present at the platform
Detailed background check for better matches
Cons:
No video chat
Navigation is slow
No money-back-guarantee feature
Interface, Website Design & Usability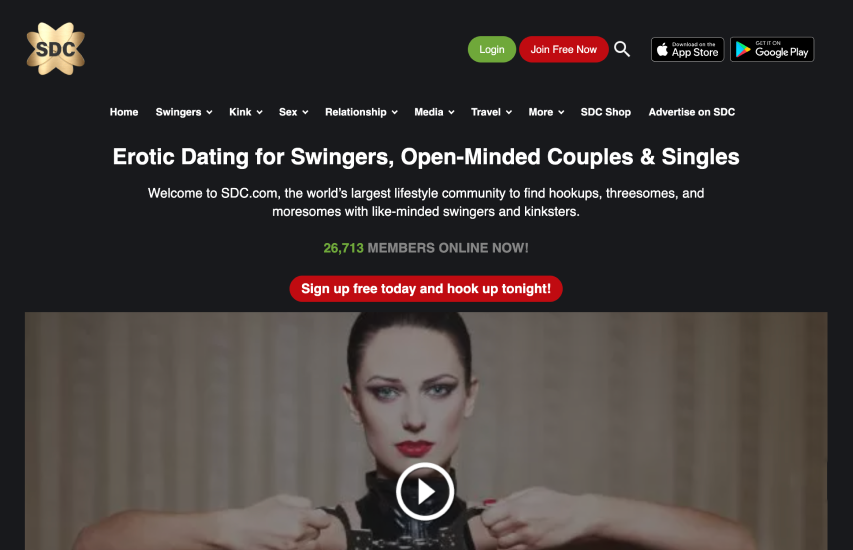 The interface of the SDC website is well-planned and presents all the features and functions excellently. The service developers have chosen to offer the dating site an elegant coloring by working with a no-frills dark shade that draws charm to the website's appearance. Сustomers consider the site navigation to be smooth and permit new members of all age groups to explore the dating components of the service without any problems, according to numerous swingers date club reviews.
In a few moments, new members will understand how the website works and it is easy to become addicted to using it. Providing the website a swingers' theme was the main alert for the site developers, and they've managed to keep the request well.
How to Register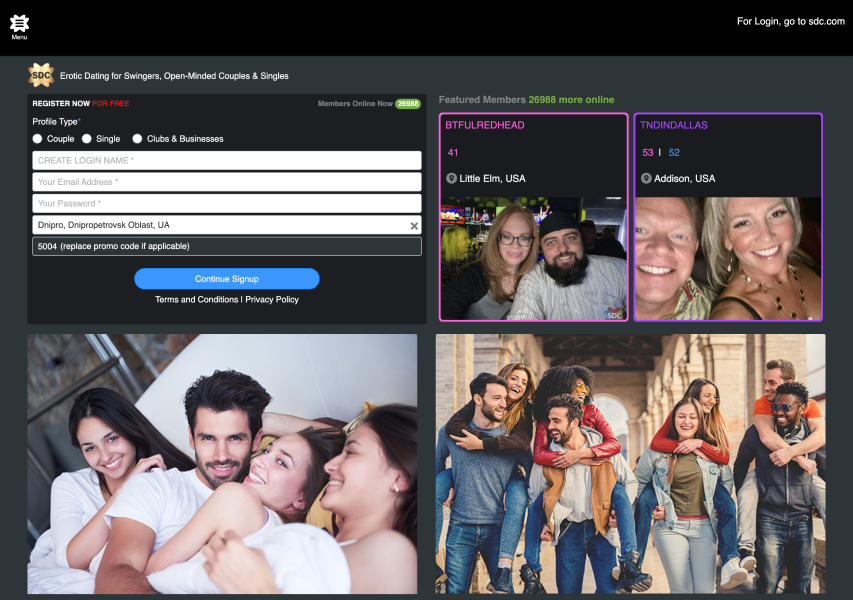 To register an account in the SDC platform is easy, though it may take some time. Customers will have to spend about 5 minutes or more to finish the signup process. It happens as the dating service demands people to complete too many essential profile sections first, including their actual swing status, the searching criteria, and so on.
New members also have to indicate if they are signing in as an individual or a couple searching for swing one-night stands. Though, many SDC website reviews still recommend it as this is the admins' method of boosting your account to other site visitors that fit your choice and sexual hunger.
When you register at the site first, you have to confirm your account before going on. Check your email and hit the link to the dating website.
This action will immediately take you to the step when you have to upload great pictures and provide your profile information to get seen and share more activity. But you can always do this later as well. It is not necessary to complete your profile totally before starting communication with possible partners.
Great premium membership is also desirable if you want to start using the special features of the site. It immediately offers a 7-day free trial period that lets people enjoy several paid functions (though it will still have some limitations). Customers can, yet, select to upgrade their membership in time or never.
Special Features
The SDC dating site has bunches of options that let site members find love, sexual partners, friends and communicate with each other. People can see all online members and also sort out the filter and save their search results. It is also possible to join the numerous speed dating events that the service moderators arrange at the platform.
Though, this feature is obtainable only for paid subscription customers. People may also handle their trip routes and publish the travel plans to show other site visitors that they will soon visit a certain spot or amenity. According to many sdc.com reviews, the service also provides possibilities to post your blogs and read blogs for free if you have a paid subscription. It also lets customers view videos of other users for free if you have a premium membership.
The dating site SDC lets its members receive and send invitations for numerous offline parties and events. Clients can also communicate with other members via text messages if they have a paid subscription.
How does SDC work?
The SDC dating platform offers clients a paid membership if they plan to facilitate communication with new members of the website. Even though they can benefit from a 7-day trial period on request, the access to messages will be restricted during that period, mentioned in sdc com reviews.
Otherwise, customers are always allowed to visit chats of the country they choose but yet, the website restricts communication with any members until you get a premium subscription. We can consider this being a positive sign, as these severe steps ensure site members that this dating site welcomes people with real dating intentions.
So if you decide to choose a paid subscription, the site communication turns pretty much more relaxing. Some swinging singles and couples are searching for people to communicate with, have some fun and probably, meet in offline events and parties to have sexual intercourse with. The site customers that you may discover on this dating website are very go-getting and ask for what they want without a hint of uncertainty.
Users profile quality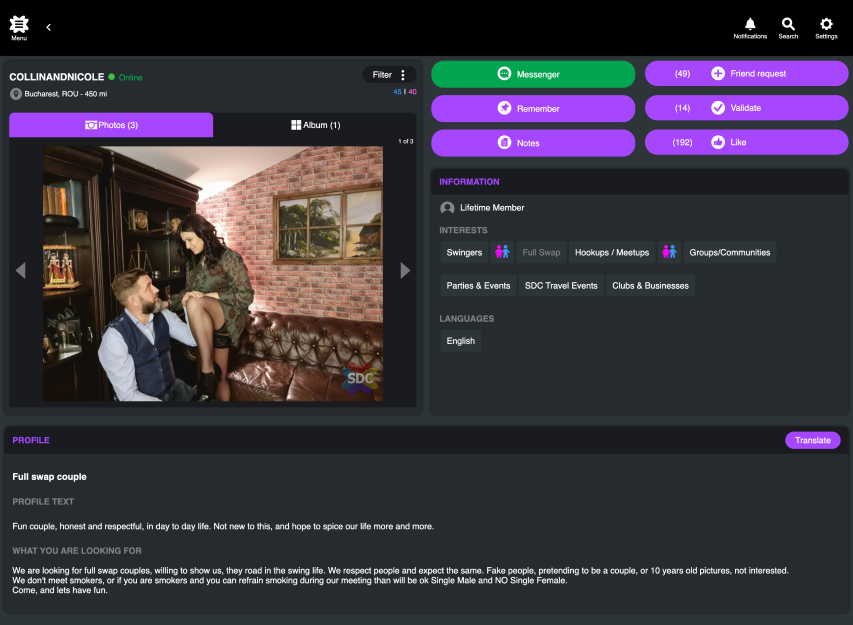 Indeed, arranging a true dating experience in this modern swing platform is legitimate. When it is a real situation that many dating sites contain fake profiles, there's only a little chance that you'll meet them at SDC.com. The site is legit and secure.
As we have mentioned in our SDC online review, this dating site is proud to provide only secure and resulting dating events and parties to the customers. Though, this platform is pretty inflexible when it comes to decoys, scammers, and fraudulent accounts, mentioned in many reviews of sdc.com. Besides, new members can always declare anything they consider questionable.
The SDC dating site makes available three types of profiles: business, single, and couple. Yes, great idea, business accounts are available on SDC.com. Besides, when you begin the registration process, you have to choose between two options which are couple and single.
Based on many reviews and research, the business accounts are paid and you have to contact the company directly before you can open such type of account. We speak about such types of businesses as clubs, bars, and swing communities that arrange dating parties offline and numerous events for swingers.
Also, you have to consider that you can permanently change or edit the account information, especially personal descriptions about your character, page, and pictures. This feature is free in the 7-day Free Trial, but customers have to be subscribed to be capable to activate this once the trial period is over.
Mobile application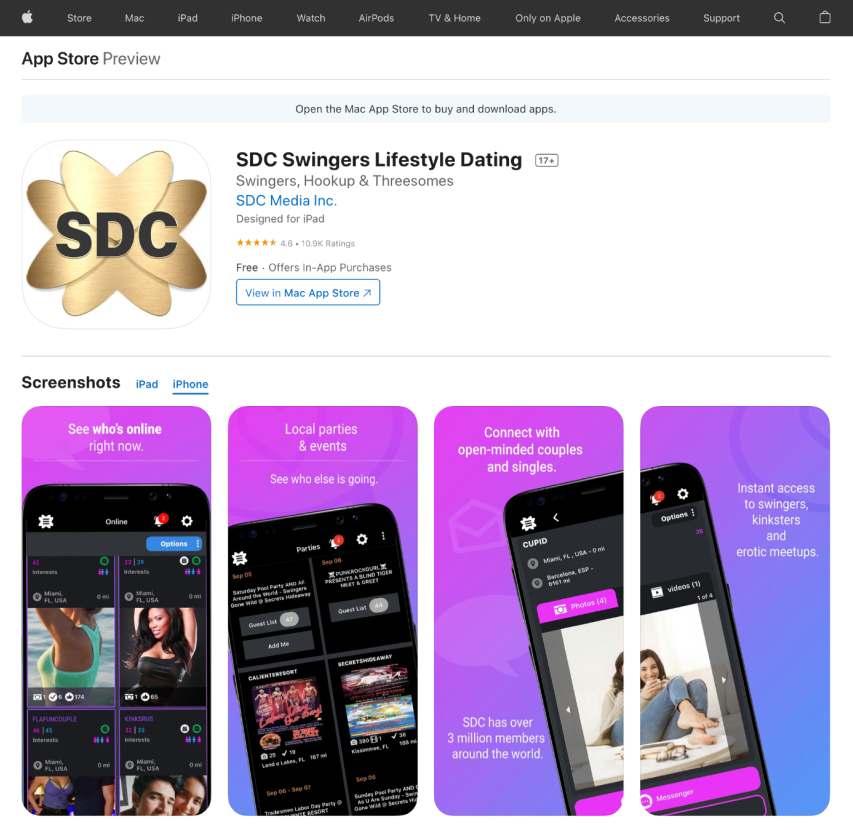 The SDC's mobile dating application works just the same way as the whole PC dating platform, according to many feedbacks and swingers date club app reviews. Customers can even the app to boost their profile to premium membership. New members can also book trips and place their names in guest lists as well by using it.
You have to keep in mind one very essential thing about this app. The mobile app needs a reliable and strong internet connection to be useful and work smoothly. As this dating platform provides its full website elements on the application, it may take several minutes before customers can finally totally load a site page.
Though, if customers can't use the standard mobile app, the SDC dating service is also unrestricted and available on all types of mobile browsers. It will help you to access the site as long as you have a mobile browser on your smartphone or another mobile gadget.
Safety and Security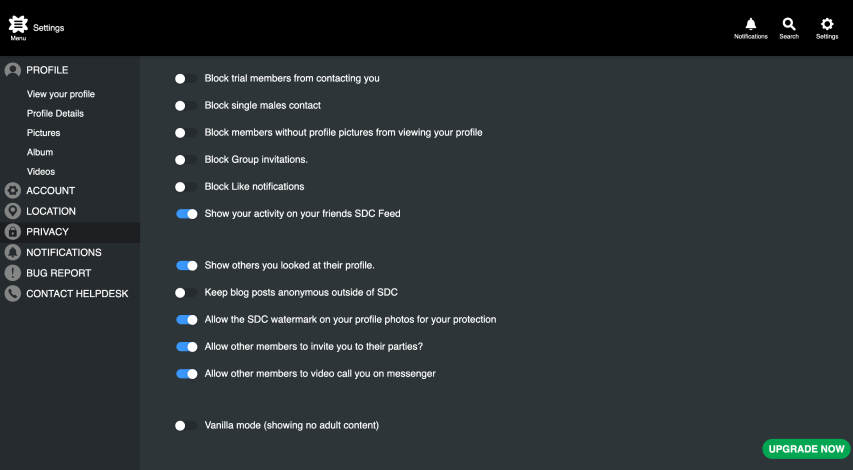 Speaking about the question of security and safety, customers can influence what amount of, and which pics can be shown on their profile. What is more, they can create events and invite site members to visit them. For sure, you will not see any real names on the profiles and accounts, and you should contact any user via the website. If you come to the offline event with somebody, there is a chance to get to know more about that person or a couple. Check out privacy policies or read sdc app review for more information.
SDC Alternatives
Elite Singles
It is an ideally made website that concentrates on getting people together. The Elite Singles dating service is a positively developed platform that's been doing the rounds for some time.
Badoo
It is a very popular dating site that functions more like a social media communication site. It tries to offer the feel and look of a social media platform and the advantages of dating, networking, and casual one-night hook-ups.
Pricing
The SDC dating service works like many other dating sites and offers both paid and free membership. Customers can pick the number of months they want their subscription to last. Usually, the more months you pay for, the lower is the price for a one month.
There is one more interesting feature concerning subscriptions. From time to time, the service provides their eternal membership promo for $250. The developers usually make press releases when there is a plan to offer a new promo subscription to the customers. So, if you want to benefit from this special feature, you have to be always online to catch a new press release. And do not forget to check the email for special promotions.
The usual pricing is the following:
Pricing packages
As for one more benefit, the novice users can get an instant 50% off but be hurry to use it. This offer will expire in 30 minutes of website usage.
Online webcam chatting. Customers can read the messages in the chat, but they cannot join.
Validating members. People can get validations, but they cannot validate other site members.
Access to pictures and profiles. Customers can only see the first picture.
Use of Instant Messenger. Customers can get messages, but they can't send them and answer.
Access to the Swingers blogs. Customers have the possibility to read blogs first. They may not post anything though.
Providing service to other members. Customers can view propositions, but they cannot receive them yet. They may not also propose your service.
After upgrading a free 7-day trial period to a paid membership, all of these service limitations will fade away. It will permit people to get the full pleasure of the platform experience.
Every month the site will renew the paid subscription until you decide to stop it or delete the account.
FAQs
| | |
| --- | --- |
| 1. Is the SDC website really safe? | Yes, this dating service is really safe until you do not provide any personal information directly to the users. |
| 2. What about security measures? | The website is created with 256-bit SSL encryption that provides total security for confidential information and members' data. |
| 3. What can I do with a suspected scammer? | We strongly recommend blocking and reporting such users to the administration. |
| 4. Can I get my money back? | The site does not offer money-back priorities. |
| 5. Can the police trace me on the SDC website? | Yes, but it happens very rarely only when the crime is really strict. The police use ISP protocol. |