Instabang Review
WE CAN recommend this service!

Instabang is a popular adult dating site that has been around for over 11 years and offers many users. Here you can find beautiful girls for one night stands or even for long-lasting relationships. I will tell you about all the registration features and the opportunities that await everyone on this resource. So, let's start our Instabang review!
| | |
| --- | --- |
| Years on the market | 11 |
| Active members | 2,000,000 |
| Mobile app | Yes |
| Free trial | No |
| Types of dating | Casual, Adult |
| Gender distribution | Male 76 / Female 24 |
| Payment methods | Credit Card |
Pricing packages
What is Instabang?
I have heard many negative reviews about this site rating. Many people say that it is difficult to find girls here, but it is not. This Insta Bang dating resource has more than a million subscribers from the USA and a fairly young audience. Even though men dominate it, you can find a beautiful girl and make a date.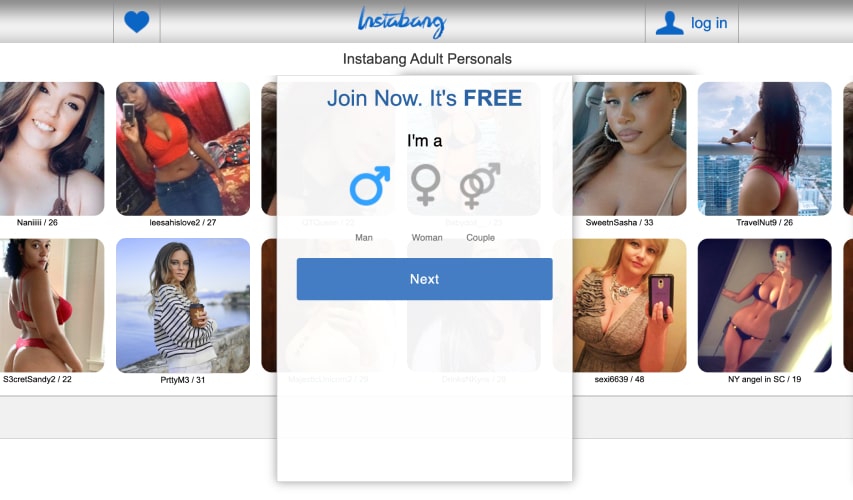 I managed to chat with three girls a week after my registration. I also believe that there are few fake accounts here since the administration regularly blocks scammers. That is why I think you should try this website in person to find out all the nuances. But first, you should check the InstaBang.com reviews.
Looking ahead, I will say that many interesting activities can replace your real communication with girls. Even if you do not find a partner for sex or short-term relationships here, you can always watch intimate content or even connect to an online broadcast. This is a good website for everyone to visit.
Sign-Up Process
The registration process consists of 6 stages. On average, you will need a few minutes to complete each step. First of all, you need to decide on your gender, name, and personal parameters. Next, you must confirm that you are over 18 years old. Another nuance is email confirmation, which is a positive aspect. After I completed all the registration steps, I entered the site to look for beautiful girls.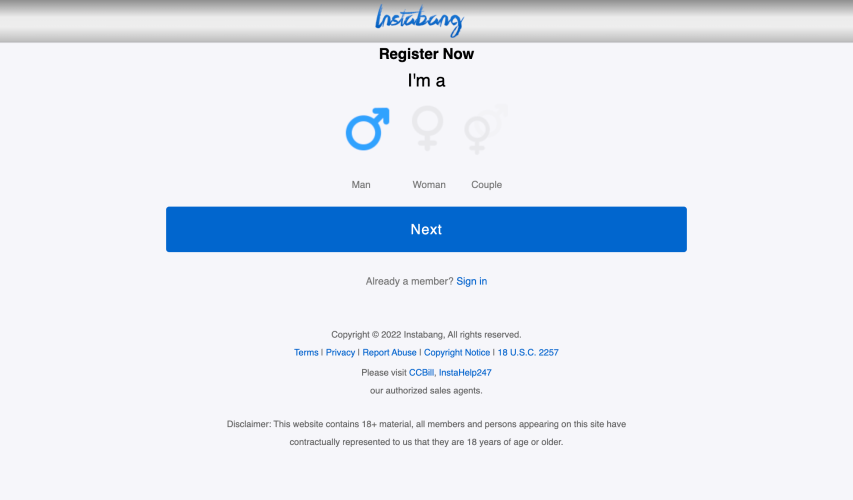 Now, let's start the Instabang app review. All the nuances that I have just described are typical for both the website and the mobile application. You have to go through all these stages to start looking for beautiful girls and the process of flirting. It is worth noting that the website has the same parameters and settings, so you will not experience any discomfort while creating a new profile.
The whole process is organized so simply and intuitively that you will never get bored with this procedure. If you answer the questions quickly, you can spend less than 1 minute on registration. This is an excellent indicator for those who are interested in sex.
Instabang Website Usability
I cannot say that this is a very user-friendly website. However, there are quite a few functions here that will help you find girls. A simple black and white interface and a tiled display of all users is a good enough step. This way, each user can see each person's preferences, start a quick chat, or send a message to interest another person.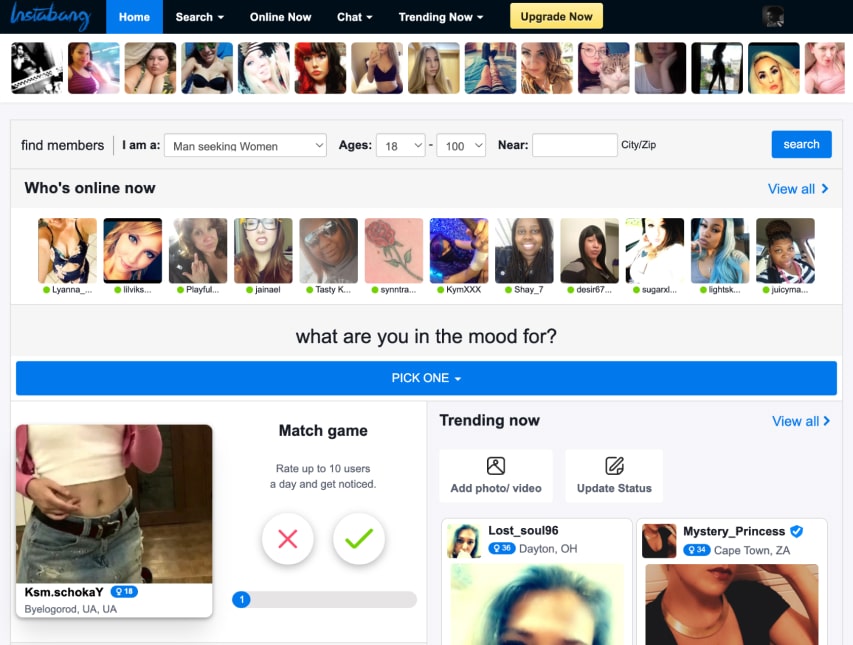 There are also separate tags for verified users, which is especially valuable. I like how all the space on the site is organized and the notification system in the upper right corner. That is why I also believe that the Insta Bang website and mobile application usability is at a fairly high level. And my opinion is shared by other users so that you can read other Instabang reviews as well.
Pros and Cons of InstaBang
Pros:
High member activity on the site
Suspected fake profiles are suspended
Email verification is required
Vast membership base
Cons:
The site's design seems to be old-fashioned
Most users are males
No free trial membership
User Account & Profile Quality
In principle, I like how the content of the accounts is organized. Once you find a pretty girl's profile, you can go to her profile to read more additional information. The upper left corner is the Avatar of each person. Further below, there is basic information about the person and his hobbies. The central part of each profile resembles a social network where you can leave comments or likes.
It is simple enough as you do not need to learn a lot of information to be comfortable using this website or mobile application. Instabang chat is my favorite because it is extremely easy to use. Another plus is the blue indicator above the name of some users. It means that this person has passed verification.
Instabang Features
In addition to regular text messaging and viewing profiles, you have more options available. For example, every day, you can play a mini-game where you have to evaluate 50 profiles of different users. It's my favorite part of this Instabang app review. You should click on the Ok or Cancel button to go from profile to profile and choose the most interesting people. There is also an interesting feature that will allow you to find out more about the people who conduct erotic broadcasts.
As a rule, these are girls who are filmed naked on the camera and respond to various real-time comments. If you like watching sexy people, then I recommend this option for you. Another nuance is the Swipe Game. This is a kind of Gold function that is a special selection of ladies for money.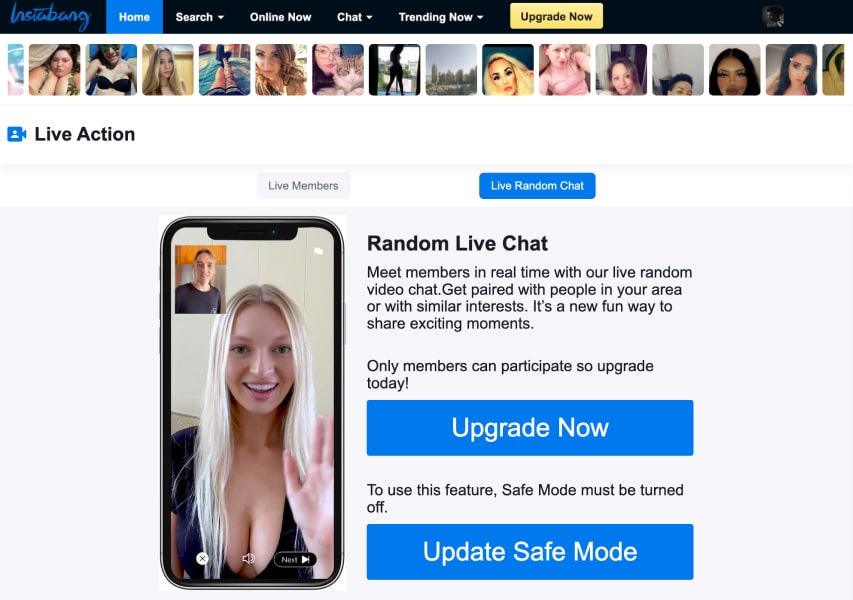 Another nuance that Gold users get is access to a special photo gallery of intimate photos and composing their own albums. You can also go to Gold cams to watch sexy models streaming. I'll be honest and say that this doesn't apply to dating too much. But it's an interesting feature if you haven't been able to chat with anyone. So, what is Instabang? This is a multifunctional dating service.
Credits and Payment Methods
It is worth noting that you can send messages and add users to Favorites for free. The registration, likes, and search filters are also available without prepayment. Nevertheless, if you want to read posts or watch visitors to your profile, you will have to pay. It will let you view profiles and full access to chat options.
You can test this service with a 2 or 7 day trial period. In the end, you will have to pay $0.95 or $9.95. You can also pay for a subscription for 1 month, 6 months, or a whole year. It is worth noting that the longest subscription period will cost you $6.67 per month.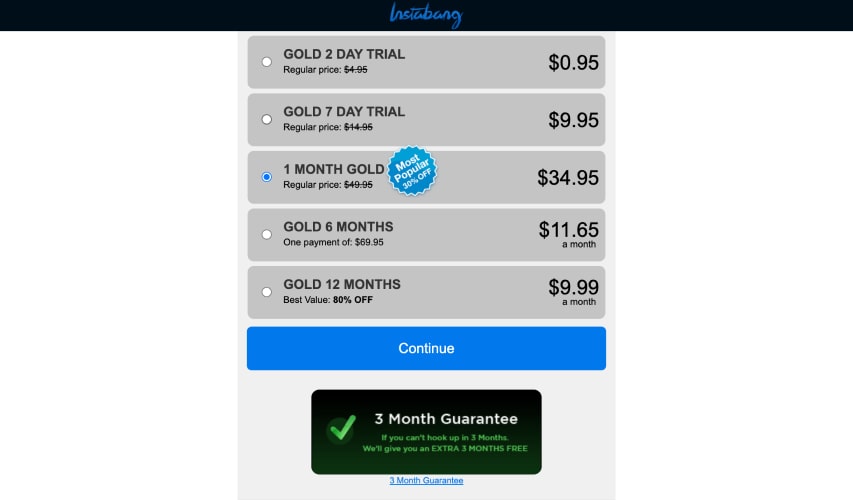 But does Instabang work? I do not doubt it. You can also use a special local currency called loans. Thanks to these coins, you can interact with models who participate in live broadcasts. For a certain amount, you can ask the girls to undress or take any sexual positions. This is a pretty fun option that I liked the most. If you do not mind the money, then you can interact with online models and have fun. And you can use this option even if you choose to use the Instabang app download function.
Security & Anti-Scam
These guys pay a lot of attention to safety. This is a priority to ensure a comfortable user experience. Another motivation to install the Instabang android app is strong anti-scam protection. The fact is that the owners of dating services are interested in attracting as much of a solvent audience as possible. That is why there is a verification of profiles and a security service that constantly monitors some participants' suspicious activity.
That is why you should not worry that you will be bothered by any work or scammers. I created a third party account and tried to pester other users. I was banned 15 minutes after my activity. It is worth noting that this is a very good result and motivates you to install Instabang mobile app. I also liked the non-standard approach to problem solving. The managers offered to refund 100% of the subscription cost if I did not receive the declared options. This is a good sign.
Customer Service
Do you know how to report possible Instabang scam messages? You need to contact technical support immediately. The online chat and email correspondence are available around the clock to each user. all managers respond quickly to messages and respond with an interval of 5-7 minutes.
I think that these are normal indicators since every request I have was 100% satisfied. That's why I liked the tech support approach. It is worth noting that there are standard answers to the most popular questions, so you can find out a lot of important information right before contacting technical support.
Company Info
Company name: Global Personals, LLC
Email: [email protected]
Address: 1021 N Street, New York City, 10008, United States
Final Verdict
So, is Instabang legit? My answer is yes. I believe that this is an adequate site for dating and searching for sexual partners. Even if you are unlucky enough to find a girl here, you can always look at the user's intimate photos or connect to an online broadcast.
Webcam models are ready to show you all their charms for extra money. I liked the process of interacting with girls during live broadcasts. It's fun and sexy. If you really want to have fun in the evening, this is a good option.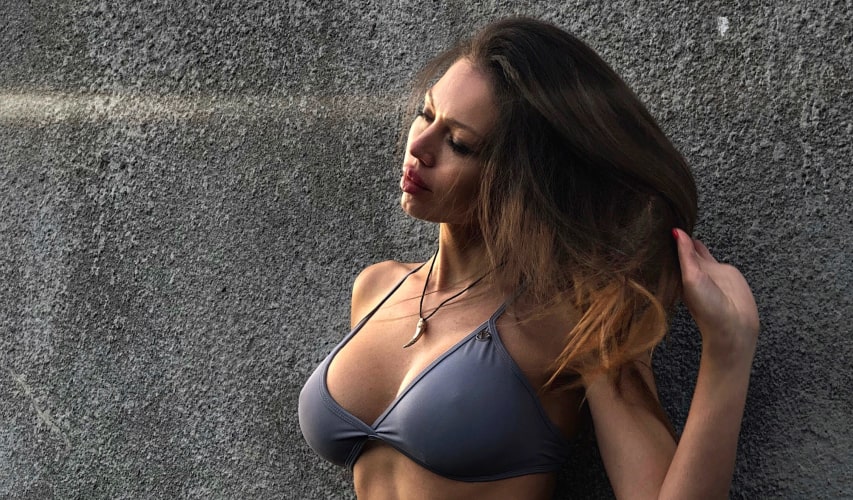 Even basic functions will be enough for you to get a lot of positive emotions here. But if you want to watch live broadcasts or communicate without restrictions, then a premium account is more than justified. It's worth noting that short-term paid subscriptions are quite expensive, so you need to make an informed decision about the length of your gold membership here.
FAQs
| | |
| --- | --- |
| Is InstaBang real service? | The website is entirely trustworthy and secure to use. The privacy statement guarantees the confidentiality of all data. The site's security and verification procedures have also recently been improved. |
| Are there fake users on Instabang? | According to my Instabang com review, 91% of the users on Instabang are actual individuals looking for connections. All new users are required to complete email verification, and moderators scan all profile photographs on Google to find fakes and scammers. |
| Can Instabang be used for free? | Even without a premium account, you can still have a good time on Instabang, but you'll have more access to exclusive benefits. |