Flirthookup.com Review
WE can't recommend this service

If you are looking for a hot partner with whom it will be fun to brighten up your leisure time, there are special applications that can help you with this. Online dating has long been a part of our lives and is popular with different age groups. Flirthookup.com launched for young people in 2017. This dating site is more like a social network. However, the main goal is not communication but finding a partner for entertainment. You will meet many people who share your desires through text messages and video chat. It is something new among similar platforms, but is it suitable for everyone? To understand this issue, we have prepared a FlirtHookup review for you.
What Is a FlirtHookup Website?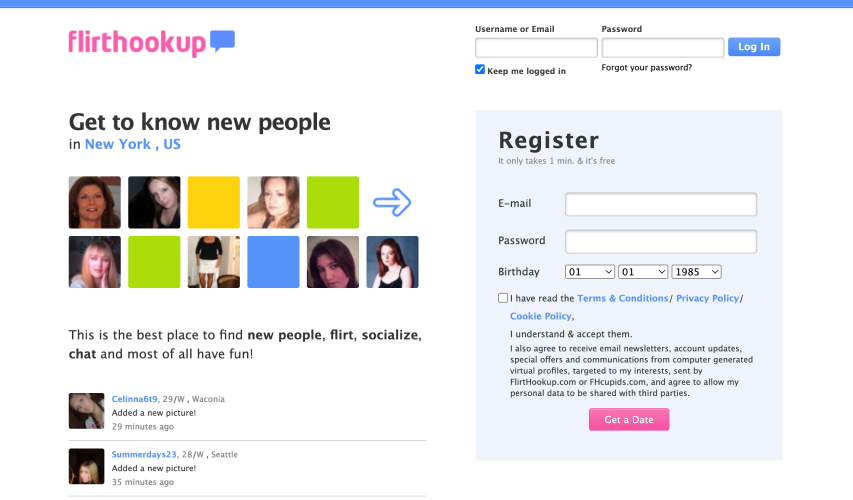 FlirtHookup is a site without a unique matching algorithm. However, simple functionality for users makes it convenient to use at the same time. It contains the basic features that any other online application has to offer. It attracts new users every day. The main condition for registration is to be at least 18 years old. On average, the age category ranges from 18 to 55. This site helps you find a partner for a quick meeting. It is not intended to seek a serious relationship. Therefore, the chances of meeting your soulmate there are quite low.
How to Register on a FlirtHookup Dating Site?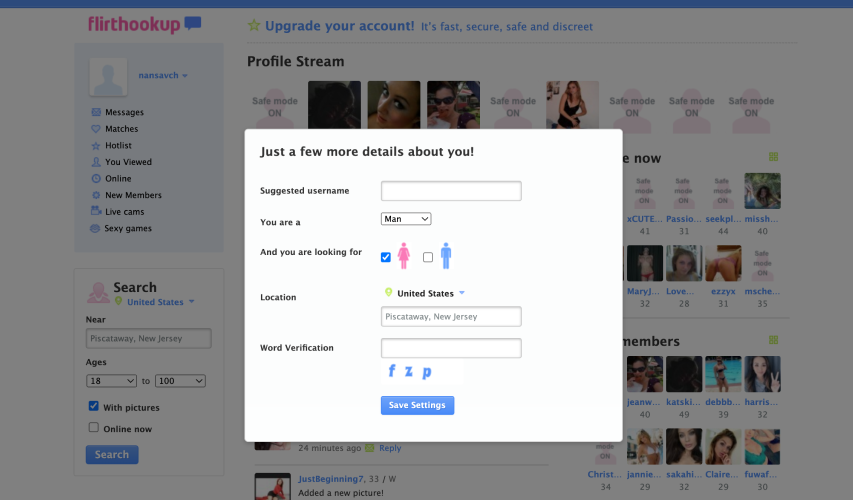 Registration will not take much time and will not create any difficulties. Plus it is free.
Download the app from Google Play or the Apple App Store.
You can sign in with IG, KiK, or Snapchat or sign up with mail.
Provide your personal information, such as your name, physical details, and preference for men or women.
Write a little about yourself. The text should be short but interest other users in communicating and meeting with you.
After successful registration, the application will find candidates within your region who might be of interest to you. However, as statistics show, the application is actively used in big cities. Therefore, if you live in a small town, it is better to look for a local hookup.
What Is the Interface and Usability of a Site?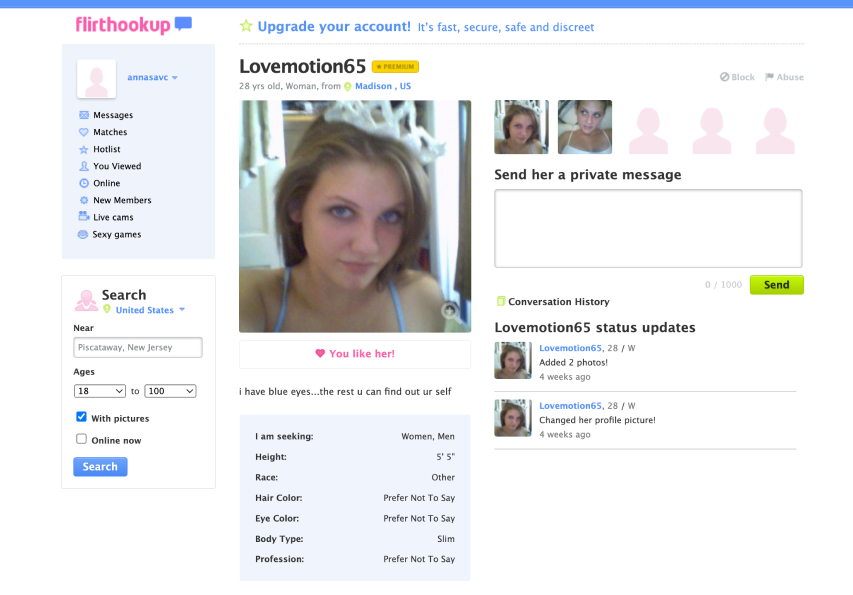 The program's design is mainly developed for mobile devices, so it is easy to use from your mobile. The interface is simple, which you can quickly figure out within a few minutes. You can easily customize your profile or integrate it with your social networks. One of the most valuable features of the platform is video chat. You will not find it on many dating apps, and it is a wonderful way to get to know someone before you go on a date. This platform is fantastic for meeting and flirting with other people on social media. This site can also be an excellent springboard to hone your flirting skills.
Flirt Hookup Review: Pros and Cons
Each platform has its advantages and disadvantages. Moreover, we must make you familiar with them.
Among core pros:
Easy and quick registration
Integration with social media – IG, KiK, or Snapchat
Searching profiles by your area
Lots of search filters
A platform for flirt
Among core cons:
Limited free access
Little pricy
Only for hookups
Main Features
Most of the features are only available to users with a premium subscription. However, we will describe the platform's best features that you might like.
Matches
This feature allows you to see a list of people viewing and liking your profile briefly. When you like a profile, he will receive the same notification. Then they can ignore you or like your profile. After the match happens, you will be able to send messages.
Favorite List
This feature can make a list of the most liked users to make it easier to find them.
Like You
There is a special section in your profile to see who will like you. And then decide whether to respond to sympathy or not.
Sexy Mode
This mode makes it easy to find more sexy photos.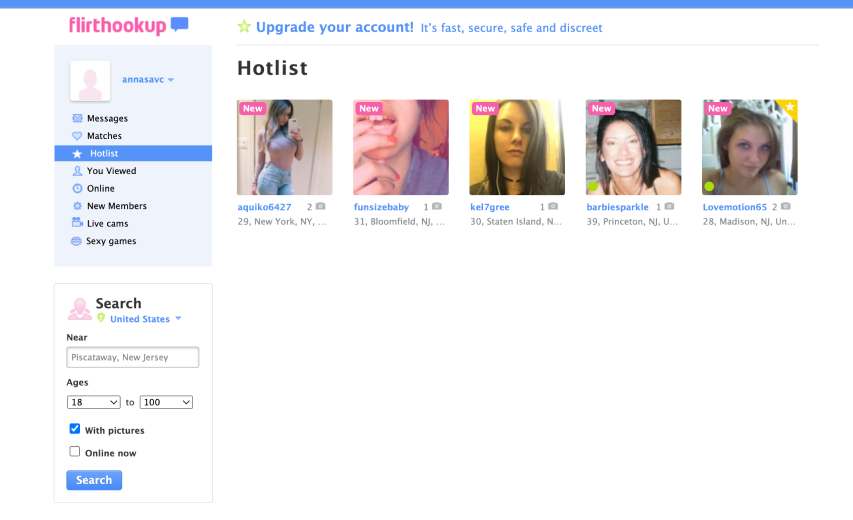 Pricing of flirthookup.com
This app can be downloaded free from Google Play and the Apple App Store. Honestly, the free version has many limitations, and the program does not have many features. The mode of the program is that you cannot upgrade to the VIP version. You can count on regular monthly bills with a monthly payment for VIP enhancements. To stop automatic monthly invoicing, you will need to go to your account settings and turn off this process. The program will issue an invoice for the next month on the last day of the current payment cycle. Therefore, if you wish to unsubscribe, do so by the last day of the current billing month. You can link your payment to your iTunes account, and you will not be reimbursed for the unused portion of the trial. The platform also sells cryptocurrencies on the website, which allows you to buy "tokens" to access unique features of the platform. However, improving your profile will give you more views, and it will increase your likes, winks, and flirt.
FlirtHookup Reviews on Its Work
FlirtHookup is looking for casual relationships and fun. If you are looking for the love of your life, do not download this app. The program itself has a youthful and cheerful design with rich colors and photos. Once downloaded, you can use the app with a VIP account, but you must pay for it. When you find someone, you like, send them a private message and chat online. One of the best features of this program is video chat via Snap. This feature makes it easy to weed out fake accounts and find real people. As with all dating apps, accounts will be spoofed on the platform. Users of this platform are not always looking for traditional dating. You deal with Millennials and Generation Z who do not subscribe to traditional dating labels. They spend time together and want you to play with them.
Mobile App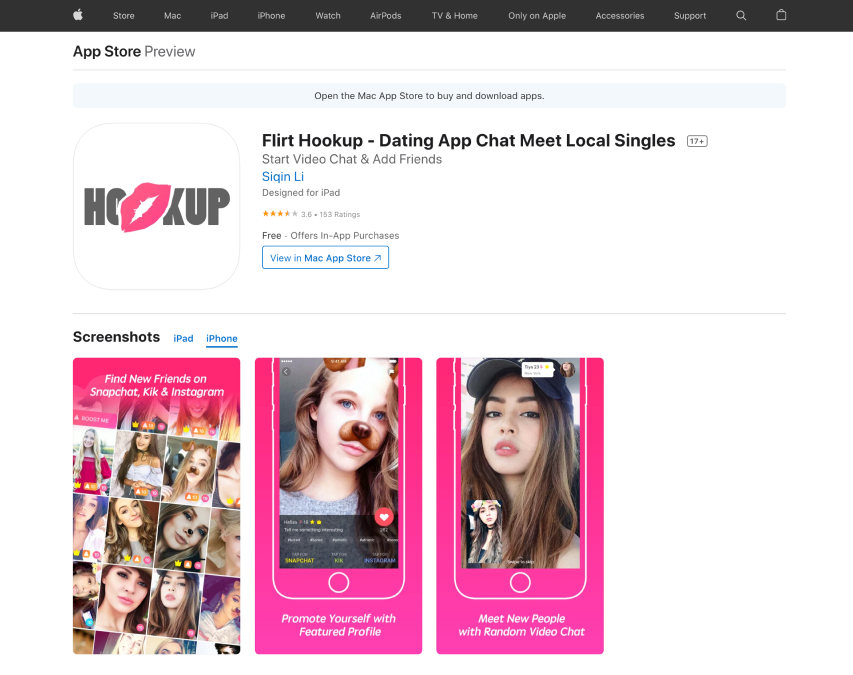 Due to the flirt hookup app review, it is only available for download on mobile devices. There is no desktop version. It is easy to use and has the same interface as IG and Snap with images. Clicking on a photo will take you to the person's profile, where you can contact them to start a conversation. It is also an excellent option for those who want to practice and practice flirting.
Privacy and Security
Due to flirt & hookup review, this platform works well. It is easy to install, and if you feel that the application is not for you, it is easy to remove it from the device. This app is more about flirting than dating, but there is an excellent chance to find someone willing to meet you for a casual date. If you are planning a search to find singles in your area, you will find users who are more likely to attend physical meetings. If you decide to meet someone, be sure to check their social media accounts and always let someone know where you are going. As for the app's security, it has many suggestions and positive user reviews. It claims that it will not share your information with any third parties.
FAQ about Flirt & Hookup App Review
Here are the most popular questions that you may still have about FlirtHookup.
| | |
| --- | --- |
| Is FlirtHookup Worth It? | We do not advise you to immediately upgrade your profile to VIP, as you may be disappointed. The girls may not respond to messages, and because of this, the site is suspected of having many fake profiles. |
| Is FlirtHookup a Good Site? | Opinions on the platform are divided. The application has a low rating, and most often due to the overpriced and not always working algorithms. More often, complaints come from the male audience. However, if we consider the application in terms of interface and basic functions, it is good. |
| Is FlirtHookup Safe? | Based on the official information on the site, this is a safe application. It does not transfer personal data specified during registration to third parties. In addition, the application has no negative reviews regarding security. |
| Is FlirtHookup a Legit Site? | This is a legit platform where you can find what you want. Contact information is available in the application, and you can contact the developers to solve the problem. |
| Is Flirthookup Real or Have Face Accounts? | First, the platform should not be spoken of as a real website but as a mobile application. Furthermore, it is real. However, there are still complaints about fake accounts. Unfortunately, similar popular platforms cannot guarantee their 100% absence. |
Conclusion on flirthookup.com Review
We have described the key points of the application, but are they true? About 40% of users are sure not. Therefore, we cannot advise you to purchase a subscription right away. However, it is still worth downloading the app to appreciate its free features. This can help you understand if it is right for you or not. It often happens that lesser-known platforms like FlirtHookup are more powerful than more popular ones like Tinder. What do you think about this? Have you had any experience with this platform?
Contact Information
Company: FlinirtHookup Inc.
E-mail: [email protected].
Address: 9A Theodorou Kolokotroni, Geri, 2201 Nicosia, Cyprus.