What Is DateYou Site
WE CAN recommend this service!
As the name suggests, the Date You app is an online dating website. In fact, there is almost nothing special about it - the website is as simple as possible. However, according to DateYou com reviews, the users like such simplicity since every website's features work in a predictable and well-familiar manner.
Also, DateYou.com reviews are mostly positive. For example, the platform has a pretty high rating on TrustPilot, and even despite some users complaining about scam issues and fake profiles, the majority of them still have a positive experience and a lot of fun on the website.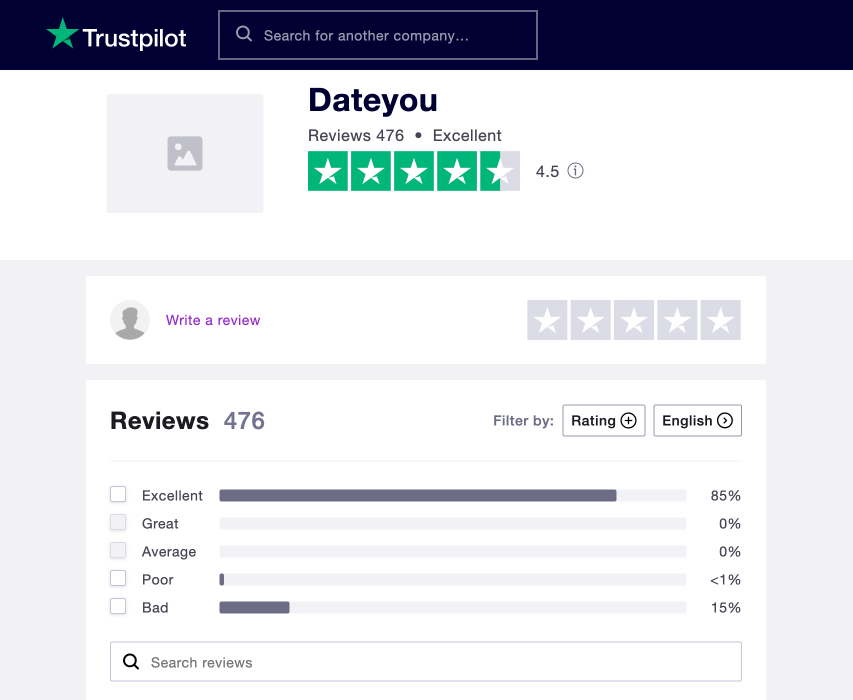 Let's proceed with our DateYou app review to find out more about the features the platform comes with and the opportunities it opens up.
What to Look for on Date You Dating Site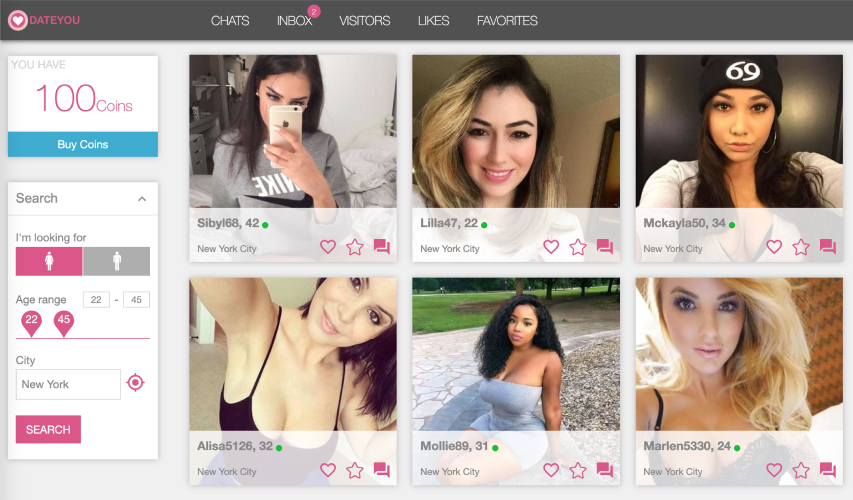 According to the Date You site terms and conditions, the users use the app "to have erotic adventures". However, according to the DateYou reviews from real users, this website is better suitable for communication, casual chatting, and more about finding a partner for online erotic adventures.
What's more, this website is a better option for men than for women since the user share according to gender is far from being equal. There are 80% of women and only 20% of men so the latter are welcome to give a perk to their ego, while the first should be ready for fierce competition.
Getting Registered
Is DateYou.com a real dating site? Of course, it is. And to make sure of it personally, you are welcome to get registered in one click, using your Google account. Nothing can be simpler, and the process of Date You app onboarding is the first proof that the interaction with the website is unlikely to be complicated.
Profile Features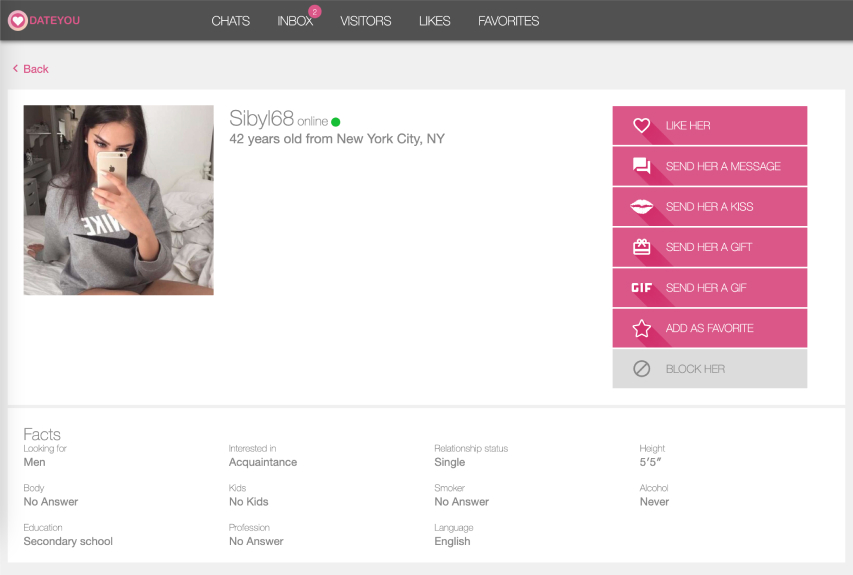 After you are done with a one-click registration, it would be logical to proceed with filling your profile in. As for the profile, the Date You app can hardly compete with more popular websites and mobile apps. The users' profiles are far from being extensive - there are several basic questions the users can easily skip and that's all. For example, the user can specify their name, age, body features, education, relation to smoking and alcohol, marital status, and goals. And nothing to find out more about the user as a person.
User Matching on Date You App
Unfortunately, there is no matching system on this website. At least, you can't count on such accurate, personalized, and deep suggestions as you can get on Badoo or Tinder. Date You allows for searching for the users according to their gender, location, and age. There are no more parameters to specify and filter the results.
So, having no matching algorithm can be good for those who want to browse "all the options" but it is a significant drawback for those users who prefer deeper personalization and more conscious matching.
Interface, Design and Usability
The website interface is pretty simple. In fact, you can't get lost on it even if you want because you have only five sections on the top bar. There, you can view your inbox messages, see the likes from other users, browse the visitors, start a chat and manage your favorites. And nothing more.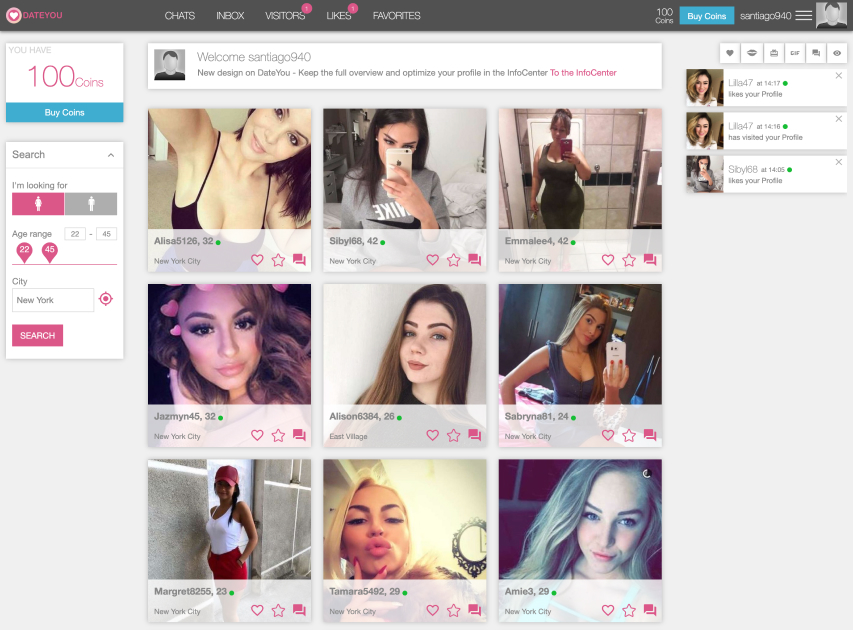 As for the design, the website has a pink-gray color choice which, most likely, hints at romantic intentions under the cover of a gray shadow of anonymity.
Pros and Cons of Date You App
After analyzing the DateYou website reviews shared by real users and being guided by the personal experience with this application, it becomes possible to highlight the following pros and cons of this website for online dating.
Pros:
The website is easy to get started with
The registration is free
The credit system is pretty adorable. The novice users instantly get 50% off.
The interface is simple and straightforward
There are a lot of options to start the conversation - you can send a message, a gift, a kills and so on
There is a good geo coverage
Date You App can be an option for quick meetings and "no obligations" chatting
There is a mobile app for Android users. The app's rating in Play Market is 4,0; the reviews are mostly positive.
Cons:
There is no matching system
The users' profiles aren't extensive enough to get an impression of a user
There are some controversies about data protection policies
There are bots and fake accounts
There is a significant mismatch between male and female users shares
Pricing System
Let's continue our DateYou review by taking a look at their pricing system. The application uses a credit system - that is, you have to buy a certain amount of credits and use them as in-app currency to be able to write messages to other users.
The prices themselves are more than affordable, especially when compared with more popular websites. For example, the most beneficial offer is to buy 1100 credits for $25. Below is the basic pricing grid:
As for one more benefit, the novice users can get an instant 50% off but be hurry to use it. This offer will expire in 30 minutes of website usage.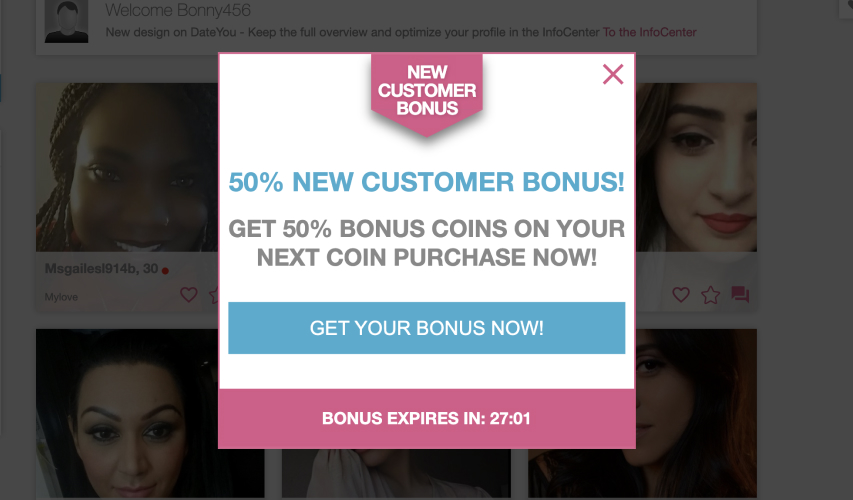 Security
But when it comes to security on this website, there are still more questions than answers. For example, the application allows the user to proceed with the app without the need to verify their identity. The only way to verify it is to buy credits and thereby, share your personal financial data.
Also, there is no age verification. According to the Terms and Conditions, the company can request ID verification documents if there is a reason to believe that a certain user can be minor. The reasons themselves aren't specified.
As usual, the data the users share about themselves, including photos and videos, are their personal responsibility. But, the website prohibits sharing explicit content - however, there are no specified practices for such a ban.
Conclusion
There are a lot of popular applications for online dating. DateYou app isn't the best-known one, however, it can be an option for meeting somebody from your location pretty quickly, avoiding the need to ask and answer extra questions.
This is a simple website with a clear UI, instant registration, and a lot of females ready to chat and meet right now. Give it a try if you are already tired of Tinder and Badoo but still want to get a casual dating experience at an affordable cost.
FAQs
| | |
| --- | --- |
| 1. Is the Date You App worth it? | Why not? Most of the online dating sites are worth it since you never know where your love (or anything / anybody you are looking for) is hidden. One of the best things is that the registration on the website is free and the overall cost to use it is pretty cheap. So, you have almost nothing to risk and can give a try to the Date You app. |
| 2. Is the Date You app legit? | Yes, Date You app can be considered legit. But you should know that the website isn't too serious about data protection practices so each of your actions on the website is your sole responsibility. |
| 3. Is the Date You app safe? | Date You app is as safe as any other online dating website so you are better to always keep online dating safety rules in mind. The only thing that can be unsafe about the DateYou app is that there is no user identification practices and age verification so you can never be sure with whom you are chatting. |
| 4. Are there any fake accounts? | According to the users' reviews, there are some fake profiles on the website. To avoid them, don't reply to template-like messages and report any suspicious actions to the support team. |
| 5. Is Date You app a good website? | Well, it depends…It can be a good website if you don't expect too much from it. However, it can be an option to quickly have some casual fun without the need to invest a lot and spend too much time on the search. |