Smoke and Poke Dating Site Review
WE CAN recommend this service!

One of the best things about online dating is that you are always welcome to meet a person who will share your interests, even if your interests are pretty specific, for example, horse riding or… smoking weed. Smoke and Poke website is a place to meet the users united by such a preference, however, it isn't the only thing that makes it specific and outstanding. We have created this Smoke And Poke Review to tell you more about this platform and its features. Keep reading to find out whether this website matches your dating goals.
SmokeAndPoke Dating Site in a Nutshell
What is SmokeAndPoke? As we have said, the Smoke and Poke casual dating website was developed to unite people who don't mind using legal cannabis products for better health, and, as it would be logical to assume, for brighter sexual experiences. Does weed make sex better? In the opinion of most Smoke and Poke users, it does, however, let's proceed with the smokeandpoke.com review.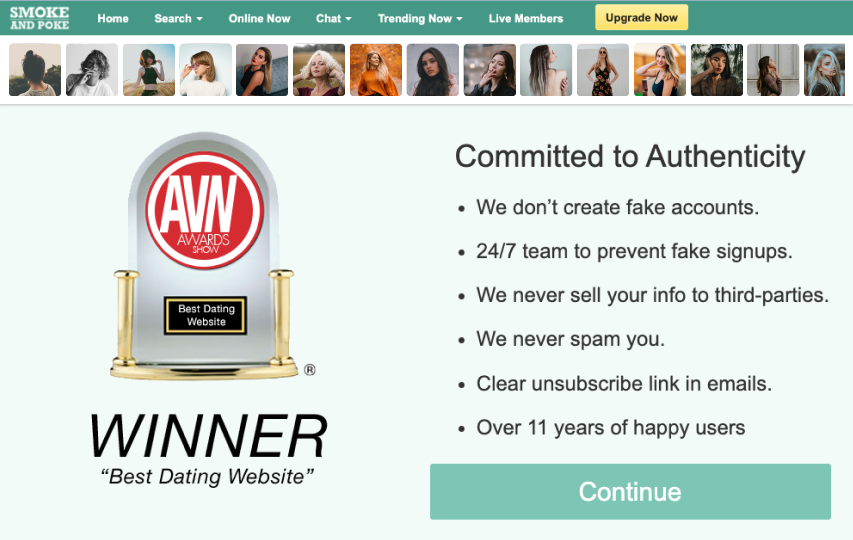 The Process of Registration and Onboarding
The process of registration on this website is pretty simple. There is no one-click sign up with Google or Facebook. Instead, you have to enter your location, email and create a password. Pay attention to the fact that the website doesn't require you to specify your real name or verify your identity. Instead, you can create a nickname.
After you have registered, you will be redirected to the onboarding page captured below. Here, you have to upload your photo, choose a nickname, and set your preferences.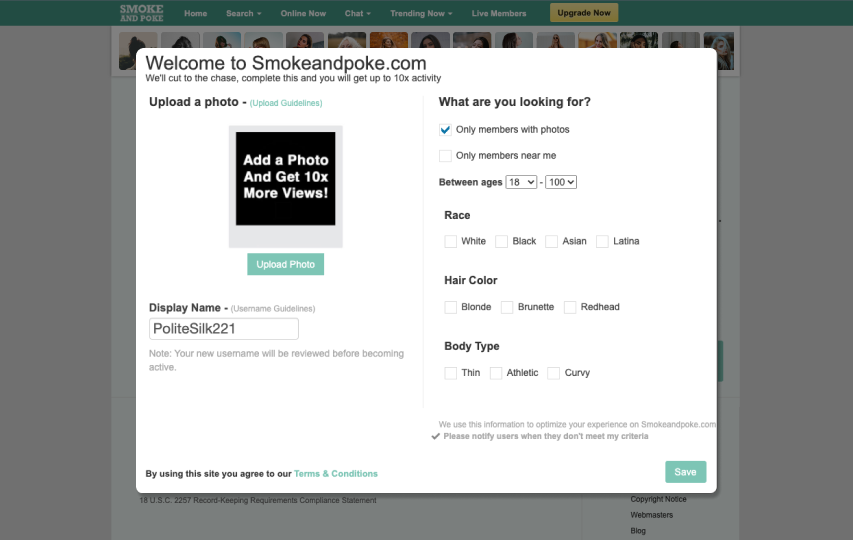 On this page, you can also specify your interests which include but aren't limited to "experimenting, friends with benefits, meeting in person, threesomes, online flirting and relationship" - these options are already kindly provided by the developers.
Interface, Website Design & Usability
As for the website design, the choice of green color scheme was quite logical - it's all about hemp and its stylistic. The user interface isn't complicated as well. At the top bar, you have the core features - your home page, search, the section with Now Online users, and video chat. You can also instantly turn the Safe Mode on or off.
However, the interaction with the website itself feels a little messy. For example, your Home page contains a search section, matching game, active and streaming users, the feature to share your mood, plus a Flirt center - a dedicated section from where you can send templated messages to start the adult conversation with random users.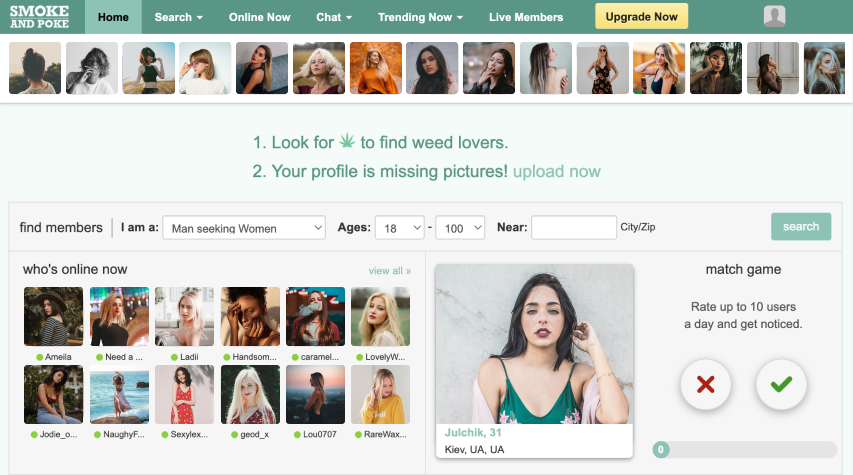 SmokeandPoke App Pros and Cons
According to the review of SmokeAndPoke shared by its users, the website comes with the following advantages and disadvantages.
Pros:
Smoke and Poke is a place where legal cannabis lovers can meet each other
The registration is quick and easy
The share of men and women is approximately equal
The website has great geo coverage
There are advanced features like video chats, group chats, live streaming, and flirting
The users don't hesitate to create explicit content
Cons:
The specific of the website may raise doubts among those who are far from cannabis usage
The home page is a little overloaded
You can't proceed with a website having your profile empty
There is no mobile app
Profiles
Let's find out what a profile looks like on Smoke and Poke dating app. The profile is pretty simple - you have to add at least one picture and write a short description. Pay attention to the fact that you will not be able to proceed with the website until you fill your profile in. Such a requirement is a guarantee that the profiles are created by real users, and the users themselves can share only the data they would like to share.
Also, there are profile safety features on the website. They are available in your account settings. For example, you can use Safe Mode. In this case, you will not see the users whose profiles contain explicit content. As one more option, you can make your profile discreet so that your photos will be seen only by those people you have approved.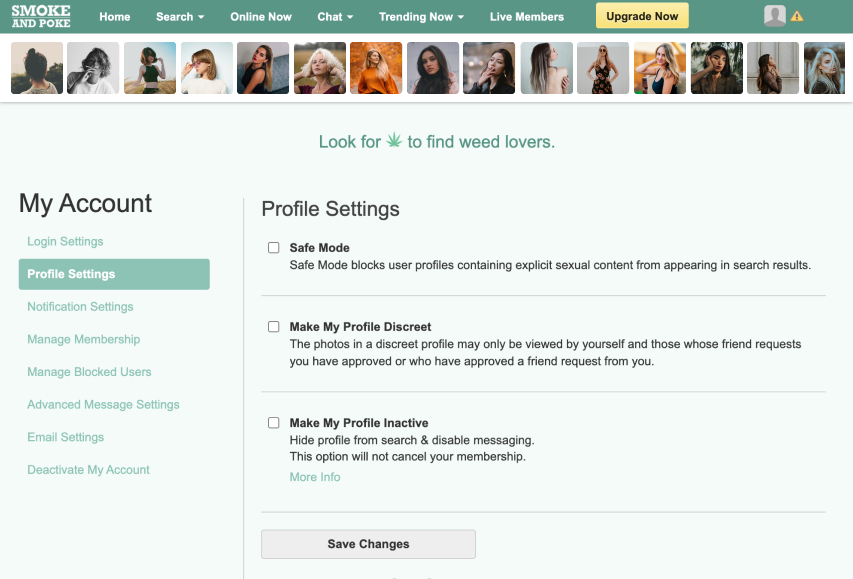 Features
Smokeandpoke.com dating site review will be incomplete without taking a look at its core features. The core feature is Search. On SmokeandPoke dating app, you can use the standard search, advanced search, take a look at the users who visited your profile, and view the most popular users. For example, here is what the standard search bar looks like. Here you can filter the users by sexual preference, gender, age, location, plus choose those with verified photos. You can also find those video chatting and live streaming right now for Smoke and Poke personals to write up.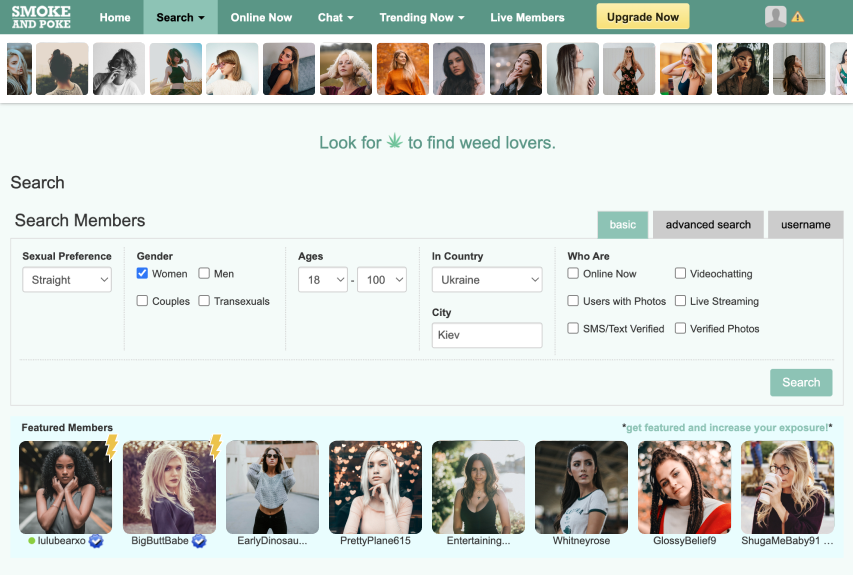 The process of searching for the users now online works in the same way.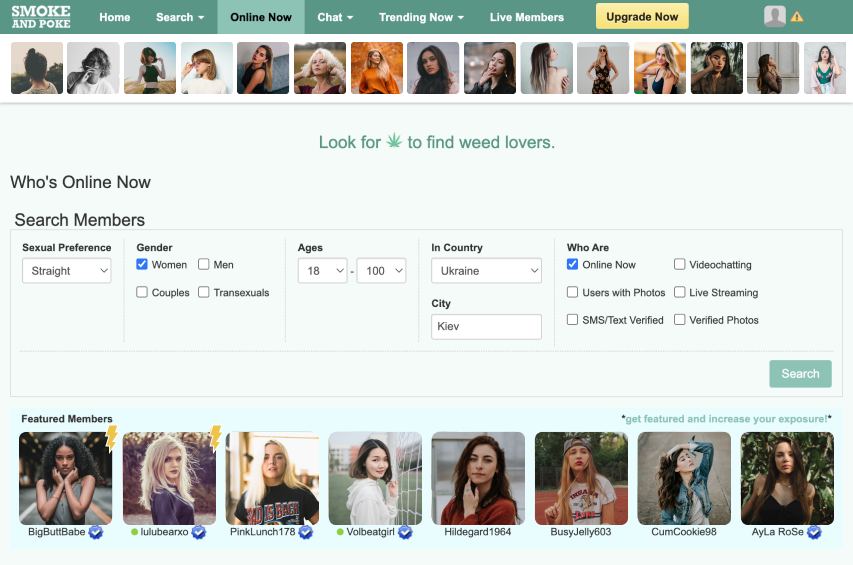 You can also join a group chat or random video chat but for the latter option, you should have a membership. The feature Upgrade Now works suspiciously easy - you just have to press the button to get subscribed to the full membership.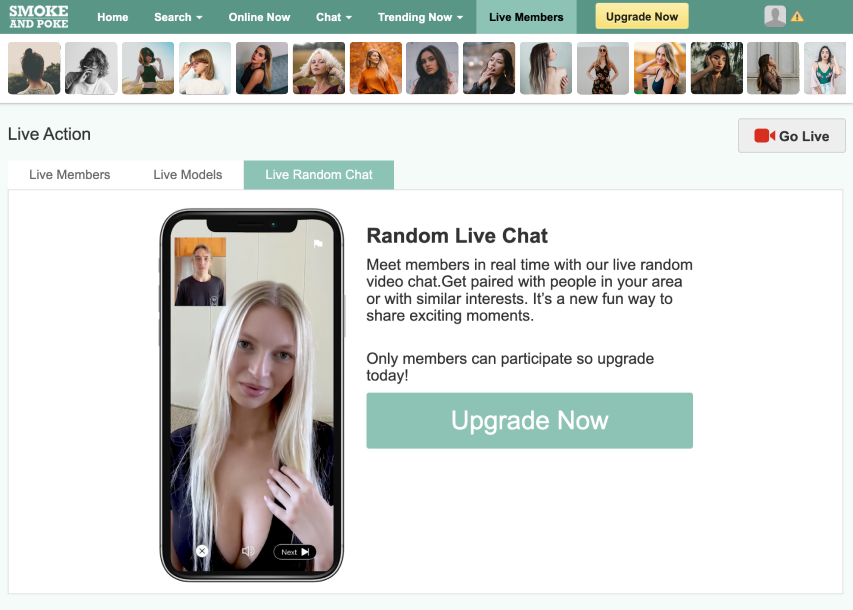 Pricing
When it comes to pricing, things are becoming even more interesting. As the first option, you can buy a monthly subscription for nearly $10 per month. This subscription allows for making your profile better discoverable in the search results, getting 42 times more attention along with the top places in search.
You can also get some credits but…You don't have to pay for them. You have to earn them instead. Any guesses on how to do it? Here is the straightforward answer.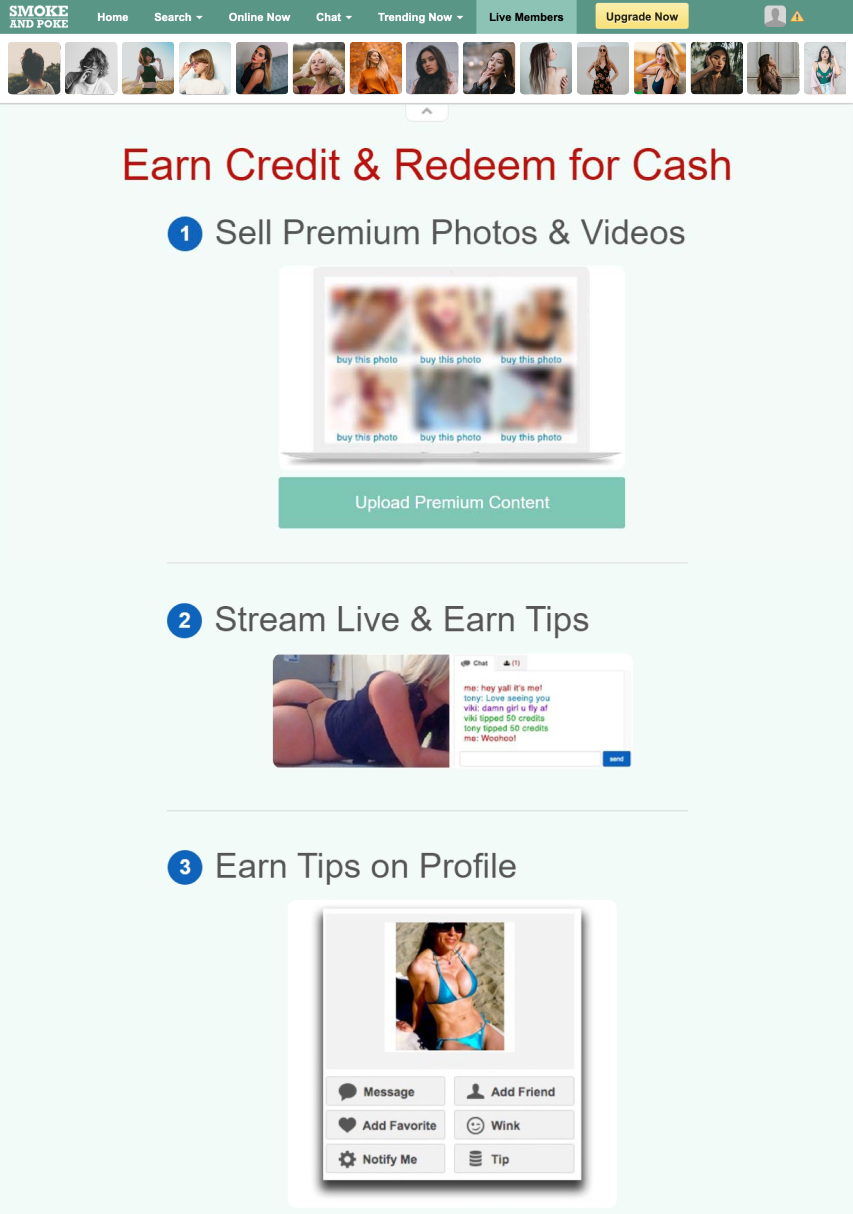 Safety and Security on Smoke and Poke
Proceeding with our SmokeAndPoke review, let's dwell on the safety and security features on the website. Below are some essential things to keep in mind:
The website has no verification procedures; it doesn't even ask you for a real name. But asks for a real photo.
The website shares the information contained in the profiles with other websites from the online dating network it belongs to.
The site is prohibited to be used by minors, however, there is no age verification practice.
The site doesn't share explicit content created and uploaded by the users.
So, let's summarise. The safety on the website is more about your sole responsibility than about the responsibility of Smoke and Poke - and most online dating websites work in this way, nothing personal. Also, given the specificity of Smoke and Poke users, the website developers kindly remind you of online dating safety rules you should know by heart for a safe and enjoyable experience.
Take one more look at them.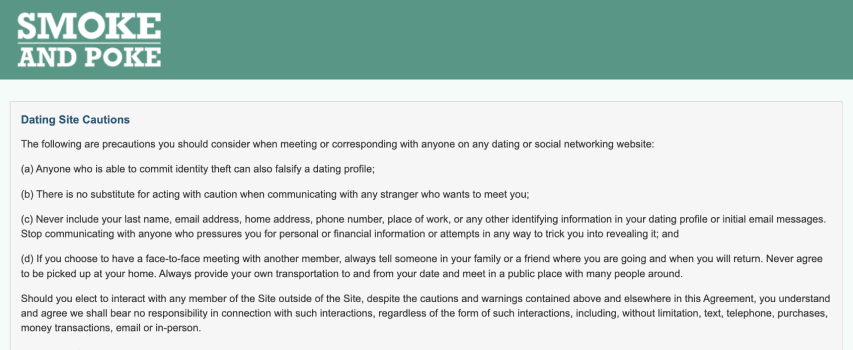 Conclusion
So, Smoke and Poke is an online dating website that, first of all, connects the users who don't mind consuming legal cannabis. It is also suitable for casual dating, finding friends with benefits, and having online fun. The platform comes with all the necessary features to find and get in touch with suitable people, plus there are a lot of options for communication, like video chat and live streaming. Explicit content is encouraged as well.
Summing up, it can be a choice but always keep the specifics of this website's users in mind.
FAQs
| | |
| --- | --- |
| Is Smoke and Poke worth it? | Well, why not? Give it a try to make a final decision - the registration process is free and you can communicate for free as well. |
| Is Smoke and Poke safe? | Smoke and Poke is safe until you behave safely. Keep in mind that this is a website that connects weed lovers. That's why the website creators once again remind the users of online dating safety - these ever-green rules are highlighted in their Privacy Policy. Always keep them in mind when meeting somebody from the dating app in real life. |
| Is Smoke and Poke legit? | Smoke and Poke can be considered legit. There are almost no scam profiles, plus the Terms and Conditions are pretty transparent. The only issue that provokes additional questions is whether the substances the users are fond of are legit enough. |
| Are there any fake accounts? | As with any dating website, there is a little share of fake accounts. The presence of fake accounts is a reality of any dating or social media platform. You just have to be attentive, and avoid sharing your personal data. |
| Is Smoke and Poke a good website? | In fact, there is nothing bad to say about this website. It is pretty specific, however, it comes with all the necessary features for online dating with results. |